Welcome to the Military Science LibGuide
This guide provides links to some of our key military science resources. Please explore this guide and don't hesitate to contact us if you have any questions.
For additional information, please visit the Bismarck State College Library web site or contact us.
Secrets of Top Students
Call Number: eBook LB1049 .W445 2013eb
ISBN: 9781402280818
Publication Date: 2013-05-07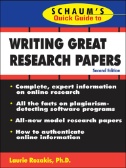 Schaum's Quick Guide to Writing Great Research Papers
Call Number: eBook LB1047.3 .R69 2007eb
ISBN: 9780071511223
Publication Date: 2007-01-01
The College Student's Research Companion
Call Number: Z710 .Q37 2011
ISBN: 1555707297
Publication Date: 2010-11-01
Sign in with your NDUS User ID and Password.
From the "All Centers" menu at the top of the screen, click on College Center.
If you need to pass an important test, get extra help for your courses, or ensure a top score on a college entrance exam, the resources found here can help you reach your goal.
Math Skills Review

Reading Skills Review

Grammar and Writing Skills Review


Science Skills Review

College Placement Preparation
Register for an account and login at the bottom of the homepage. Then you can save tests, courses, and ebooks and come back to them.
Find Materials at the Library
We are here to help you with your research and with finding information to complete your assignments. Please contact one of us with any of your library questions.
Sandi L. Bates
click here for email
701-224-5451
Johanna Bjork
click here for email
701-224-5738
Liz Mason
click here for email
(located off campus - email is best way for contact)
We make our best effort to get back to you as soon as possible. If you ask a question in the evening, you can expect an answer the next morning; with weekend questions your answer will be sent on Monday.
Call a Librarian
Call the Reference Desk: 701-224-5450

Visit the Library
Stop by the Reference Desk to ask your question in person.

Send an E-mail
E-mail a question to a librarian.
This service is available to BSC students, faculty, and staff and other BSC library card holders.

You can ask about specific facts, for help doing your research, or for assistance using our library's resources and services.

We will respond to your question as soon as possible, usually within 24 hours. Response time varies because of our hours of operation, the type of question asked, and the availability of staff.
Schedule a Consultation
Make an appointment with a librarian for one-on-one assistance with your research project, help in finding appropriate resources, or instruction on using library resources. Call 701-224-5450.
Please use the comments below to suggest content for this guide. Thanks!